Stage 1: Air Filter, thermostat, and Ecutek Tune
Stage 1.1: Catback Exhaust
Stage 1.2: Resonated Midpipe
Stage 1.3: Ceramic Coated Header
Stage 2: Supercharger
Stage 3: Engine Internals
http://www.cosworth.com/products/power-packages/fa20-platform/stage-2-power-package-range/
الان علاقه مند شدم به این کیت و ایمیل تیونر خود Cosworth رو دارم matthew.feasey@cosworth.com که میتونم ایمیلش رو به مایک برای تبادل نظر بدم. اینا مپ unlock رو نمیدن و باید با همین مکاتبات بین moto mike بتونیم از مپ پایه استوک مپ نهایی رو دربیاریم.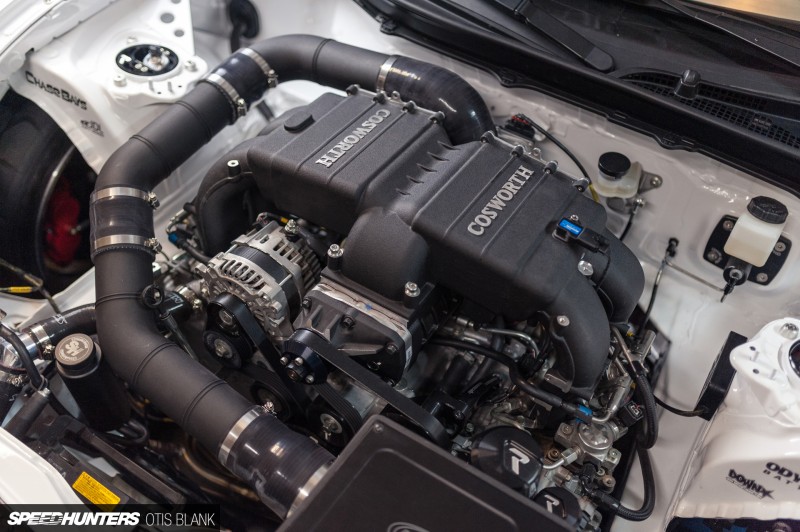 However I spent some time with their lead engineer and we saw a FA20 on an engine dyno. They have evaluated the whole engine and was interesting discussing their findings. They have used full engine development software based on an engine tear down to get dimensions and specs etc.
The things that stick out in memory:
-Stock airbox is good for at least 300bhp
-the main resonator does help for NA cars, the others make no difference and the sound generator does affect performance.
-The air feed/snorkel is not a restriction.
-Cams aren't worthwhile
http://www.ft86club.com/forums/showthread.php?t=65733&page=7
جالبه بدونید سوپرشارژ نیازی به روغن نداره و کلا مپ این کیت هم طوری طراحی شده فاصله زیادی با ناک داشته باشه. بوست این کیت بین ۷ تا ۹ Psi هست که عالیه و صدمه ای به موتور در دراز مدت نخواهد زد. من با اتانول میتونم تا ۶۶% قدرت بیشتر با همین حدود بوست بگیرم.
مشکل من با این کیت صدای سوپرشارژ + بوست بیشتر در مقایسه با توربو و اضافه کردن ۳۰ کیلو وزن به ماشین هست و اینکه مطمئن نیستم بالای ۶۰۰۰ دور وضعیتش چطور میشه.
he kits are ETA end of Feb 2015. There are a few kits coming earlier for dealers and VIPs, but the small pre-production batch will not be available for the general public. We are currently taking preorders for kits
A few more tidbits on the kit itself.
The +80hp is based on an extremely conservative tune on 93 octane. +100 is possible, but for a pre-packaged tune, Cosworth prefers long term reliability over high output.
The base kit pushes around 0.55-0.6 bar, approximately 7-9 psi boost. The supercharger itself is a TVS 900, and is capable of about 1.2 bar, or ~17.5 psi. However, to take advantage of the full capability of the supercharger, you'll need a built engine.
A stage 3 package will be released later on in 2015, which will include internals for the engine to be used with the higher boost pressure.
CARB certification is in the works, and *may* be finished by the time the kit is released next year. Power output will not be compromised on CA 91 octane.
MSRP for the kit is $6,495
As expected, Cosworth has been very transparent with information on their kit, and CSG will be a premier dealer for the Cosworth packages.
Please PM @CounterSpace Garage for pre-order pricing.